Header
Business Law Pro Podcast!
An Informative and Inspirational Podcast on Where Law Meets Technology & Compliance at this Exciting Crossroad!

Successful Miami Business Lawyer's Anna Tumpovskiy & Kandron Jones guide you on the roller coaster ride we call business. They take listeners through the ups and downs faced when navigating through domestic and international business through the eyes of the law while using technology. This is an entertaining thought provoking podcast you don't want to miss, subscribe today!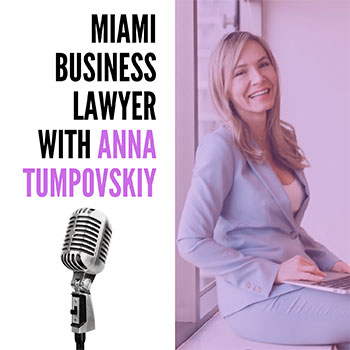 Episode 1 - Time's a Ticking for TikTok
Welcome to Miami Business Lawyer with Anna Tumpovskiy - Where Law & Tech Collide
This is an informative and inspirational podcast where law meets technology at an exciting crossroad! Today we're talking to Kandron Jones about New Regulatory Framework for Data Protection & Privacy.
This is our first and very enlightening episode on current events that effect your business. For more information please visit tlglegal.com